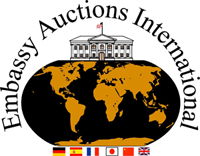 Weekly Auctions of Exceptional Items
Upcoming Auctions
News
Reviews
Past Auctions
Record Results
Upcoming Auctions from Embassy Auctions International
Bidder Reviews for Embassy Auctions International (44)
8 Latest ReviewsSee All
Ron
St. Petersburg, Florida
Very friendly folks who are great professionals
Very trustworthy group which takes great care of their customers.
Jennifer
Weston, Connecticut
James
Dauphin, Pennsylvania
Excellent service
Friendly folks, accurate description of items up for bid and easy pickup of purchase items.
Great Company
Really nice folks. Very helpful and accommodating. The Victrolas and Edison had to be transported on different days and they had no problem assisting me in that. I am definitely bidding with them again.
fantastic, walked me though transaction, payment and shipping with no problems.
Made the transaction easy with great results. I have done hundreds of auctions and this was ten out of ten for purchase and shipping.
News about Embassy Auctions International